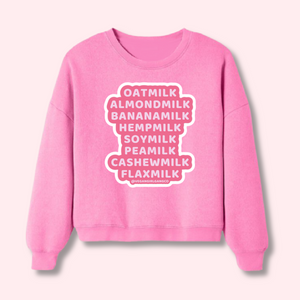 We have all been there standing at the register watching the barista make our coffee hoping they remember the plant milk. Admit it!
Introducing our "Plant Milk" Crewneck!
All crewnecks are unisex. We offer inclusive sizing for all of our cuties!

We highly recommend hand washing this item to increase durability and vibrancy. 
Colors may vary from online to in person. This item is made to order with love and care! Please note that it could take up to 4 weeks to process and ship this item.