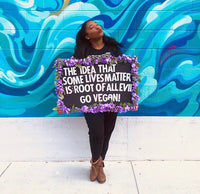 ♡ A message from Tyra ♡
♡ black owned - female owned - small business ♡
welcome, you cute lil sweetheart. my name is Tyra. i am the owner of this chaotic shop. thank you for taking the time out of your day to hang out and view the stickers that my mentally-ill brain invent.
vegan girl gang is a total liberation shop. we promote the liberation of humans and animals. our goal is to promote liberation through products that induce nostalgia from the y2k era and the early 2000s.
you'll see products inspired by all of your favorite childhood tv shows, movies and more all with a message that promote equality, liberation and love.
thank you for believing in me and my mission. you are a gift to this earth. always remember that.
with love,
tyra.
join the gang
Instagram: @vegangirlgangco
Twitter: @vegangirlgangco
Tik Tok: @vegangirlgangco
Email: vegangirlgangco@gmail.com